No Need to Splash Out!
Tue, 7 May 13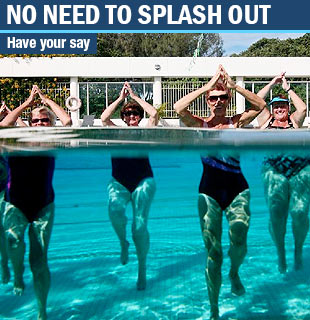 QWEP is proudly embracing its new Gold Coast location, The Golden Door Spa & Health Club, 73 Seaworld Drive,Main Beach QLD. When our previous location at the Gold Coast Aquatic Centre closed in February for Commonwealth Games renovations, we feared we would have no where in the Southport/Main Beach CBD to go. This isn't the case!
See the Gold Coast Bulletin Article: Check out: http://www.goldcoast.com.au/article/2013/04/10/450064_gold-coast-news.html "Swimmers Lap Up Luxury During Revamp"
Tags: QWEP: Queensland Water Exercise & Physiotherapy Services, Aqua Aerobics, Deep Water Running, Hydrotherapy, GOld Coast, Southport, Main Beach, Gold Coast Aquatic Centre, Southport Pool, GOld Coast City Council, Gold Coast Bulletin, Golden Door Spa & Health Club, Sheraton Mirage Resort, 25 Metre Pool, Luxury, Sarah Blaubaum.
Related Articles
---